Probably one of the most frequently asked questions I get when it comes to photo sessions is "Do you have any suggestions for what to wear?". Since I get this question asked so often, I thought it might be helpful to dedicate a blog post specifically to this with some suggestions! I typically tell my clients to follow 3 rules:
1. Be yourself.
If you're a cowboy boots and jeans kind of girl, don't come dressed to your session in your fanciest dress and heels. Regardless of the kind of photos you're having taken, whether it be and engagement session or family photos, the pictures are supposed to be a reflection of you, of your personality, and of your style as it is now. If you stray too far from your own personal norm, you can wind up feeling uncomfortable or displeased with the outcome of the photos because you're so used to seeing yourself a particular way. Simply put: If you're not comfortable in what you look like for your session (be that clothes, hair, make up, etc), you will look uncomfortable in your photos. So if you're that cowboy boots and jeans girl, throw on you best pair of jeans, a cute top, and those beloved boots, and let's make some photos.
2. Don't over-pattern.
When it comes to photos, neutrals and solids can be your best friend. I typically suggest my clients go with solid colors over bold pattern, mostly because bold pattern, if overused, can be very distracting in a photograph. Adversely, pattern can also add texture if used correctly, which is always a benefit to your photos. When it comes to my sessions with two or less people (maternity, engagement, even newborn sessions), I usually tell my clients if you're going to include pattern just one person wear it. Maybe your groom's button up can be stripped instead of solid. Maybe you have a bold patterned dress you love. Maybe your mom made your newborn a fantastic patterned blanket you want to use. All of these are great! Just pair these patterned lovelies with a nice solid, and you're sure to love your images. When it comes to family sessions, particularly larger family sessions, pattern can also be our friend. If you've chosen a color scheme for your family, finding a pattern that fits into that color scheme is always a plus. As long as the pattern is more subtle than bold, it can add texture and personality to your images.
Two great examples of the perfect use of pattern to add interest and dimension without distracting! Love my clients 🙂

3. Coordinate, don't match.
Gone are the days of white shirts and jeans in your photos (and all photographers simultaneously rejoice). Being matchy-mathcy in your photos (i.e. everyone wearing a white shirt and blue jeans, or black shirts and khakis) is the fastest way to date your photos 10+ years without even trying. Instead of being perfectly matchy, think about coordinating instead. If you're a bride and have a to-die-for red dress you want to wear to your session, don't have your groom wear a green shirt…I can just hear the jingle bells now. Instead, find colors that coordinate well together and go that route. Keep in mind location can add into this as well. If we're going to be shooting in a field full of green grass, it may not be ideal to wear your favorite green skinnies. As for family sessions, this is even more important. The more people we incorporate into an image, the more coordinating becomes a necessity. I always suggest my families pick a color scheme and go with it. Maybe your colors are brown, yellow, and orange. Have everyone in your group wear some version of this, with a neutral (black, khaki, jeans, white, gray, etc.) It's also a good idea to choose one of your bolder colors as the pop of color to add interest. So in this scenario, maybe the yellow is your pop. Have your jewelery, scarves, shoes, etc be the yellow (pop of color) on top of your brown and orange with blended neutrals and voila! Fashionable family photos that don't look matchy-matchy!
In this example, we have an obvious Red, Green and White color scheme (these were Christmas photos, so it was totally perfect!) This family did such a great job of mixing and matching so each color is evenly represented (along with some neutrals), there is some texture with small touches of pattern and bold jewelry, and each member of the family is still representing their own personal style. Perfection 🙂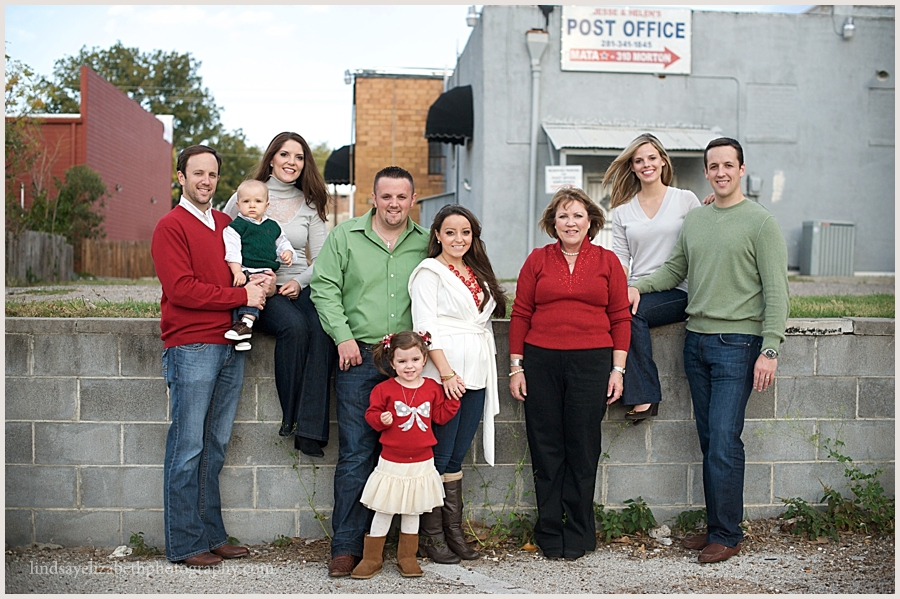 I am by no means a style expert of any kind, but through my years of shooting, I've figured out what works well and what doesn't. Next time you're planning on getting your pictures made, I hope these suggestions can be a helpful start to getting pictures you'll love for years!