Years ago, I was sitting in church listening to my pastor preach when he asked the question "Who in this room feels they've witnessed a miracle?" People around me began raising their hands, and I sat racking my brain for something divine or metaphysical I could classify as miraculous so I too could raise my hand. I came up with nada, and as my pastor's sermon went on, I got lost in thoughts of miracles. What defines a miracle? What makes a circumstance miraculous? Do miracles come in all shapes and sizes? Would I ever witness something amazing enough to be classified as a miracle? Little did I know, I would get my answer…just not in the way I had ever expected.
Three months ago, on the morning of February 15th, my 32 year old sister, who was almost 36 weeks pregnant, collapsed at work and went into cardiac arrest. She was revived, twice, and taken by ambulance to the closest hospital where, upon arrival, her daughter was delivered via emergency c-section. After the doctors got both my sister and her baby girl stabilized, we were basically told to prepare for the worst as both Erica and Elayna were alive, but very critical. As minutes turned to hours, both girls hung in there and made it through the day. Barely, but they made it. What ensued over the next several weeks was…well, nothing short of amazing…
Erica spent 13 days in ICU, 5 of those days were in a medically induced coma. We were told Erica has a condition called hypertrophic cardiomyopathy – basically it's a thickening of the walls of her heart – and this is what caused her heart to just stop beating that terrifying morning. Though she survived the initial episode, her doctor ensured us it would not be her last, and we were told she needed to have a pacemaker/defibrillator put in to help control her tachycardic heart. So 11 days into her stay in ICU, she had her device put in. Elayna was life-flighted to a hospital in the med center on February 15th where she ended up staying 76 days. After three months of hospitals, doctors, the unknown and uncertainty, being told too many "ifs" and not enough "whens", tears of both fear and joy, and growing closer to my family than I ever thought a family could possibly be, I realize I not only witnessed a miracle, but lived one. My sister and her sweet baby girl are both …well, miraculous.
We were told that initially, my sister's chance of surviving that first day was 5%. Five Percent. And today, exactly three months after her heart stopped beating, I can happily say she not only survived, but she's thriving. Erica and Elayna are both happy, healthy, and the biggest blessing to my family. It brings tears to my eyes knowing what the two of them have overcome and just how hard they've had to fight to simply stay alive. Miracles, both of them.
The truth of it is, their story is long, eventful, and so full of emotion I can't bring my self to relive it in this post. If you'd like to know more of the details about what has happened over the last three months, my brother-in-law and I kept a running journal during both girls stay at their respective hospitals. To touch on all that has happened here would be overwhelming to both reader and writer, but if you feel so inclined, you can read all about every last detail here: http://www.caringbridge.org/visit/ericaelaynanigrelli
My niece has been home from the hospital for almost 2 weeks, and since I've been bugging my sister to let me take some photos of her. She is still on oxygen, so Erica was reluctant as she didn't want photos of her with the tube in her nose. I pretty much just said 'too bad so sad' and took the pictures anyway. That what sisters are good for, right?! While I was trying to get her to cooperate with me, Elayna got a bit fussy so Erica picked her up, and Elayna pretty much feel asleep on her chest. I snapped a few pictures, intending to get both baby girl and my sister's scar in them just for "keepsake" purposes, and those two pictures that I grabbed may just be the most powerful images I've ever taken. Having lived and breathed every moment of everyday of the last 3 months with both of these amazing girls, I can't look at these images without my eyes filling with tears. I don't think I've ever captured an image that tells such a story. From 5% to this. It's truly miraculous.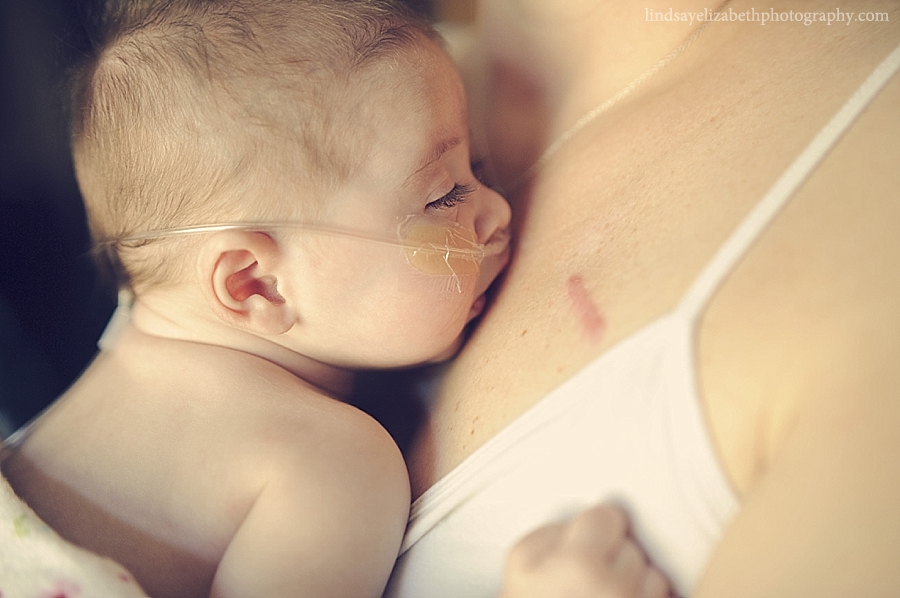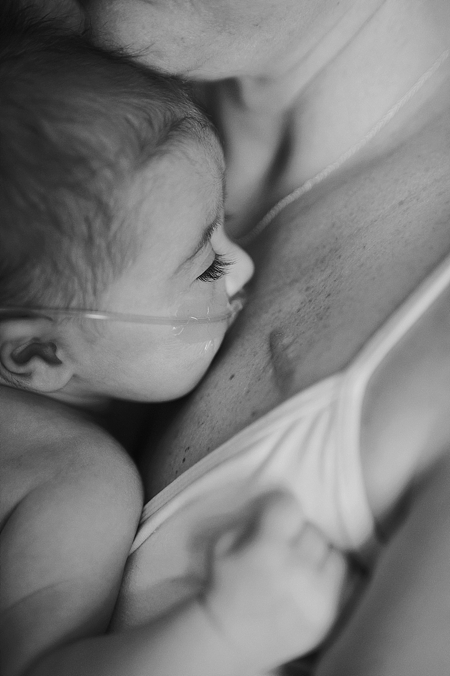 After little miss calmed down a bit, I couldn't help but continue taking pictures as long as she'd let me. I figure she's going to have to get used to Auntie Lindsay being all up in her face with a camera  😉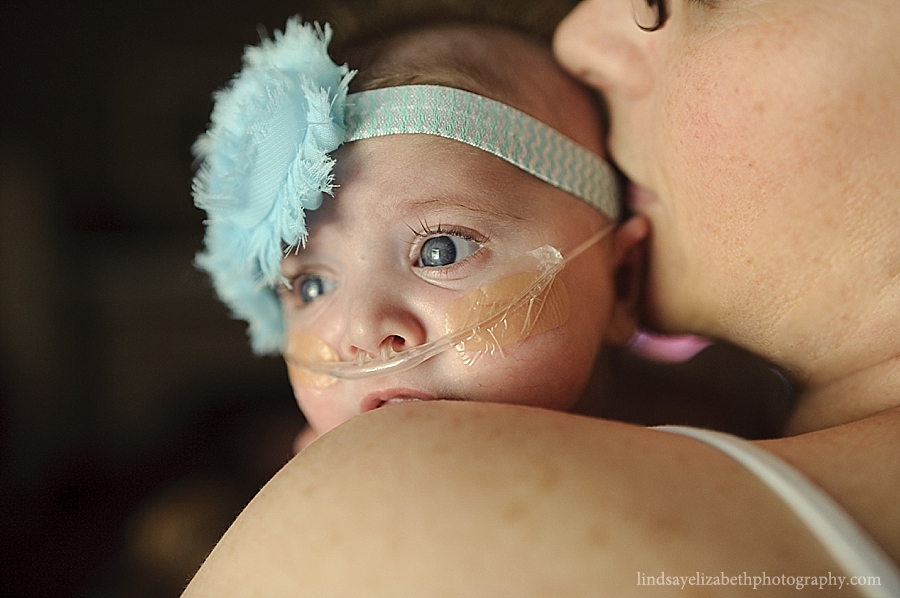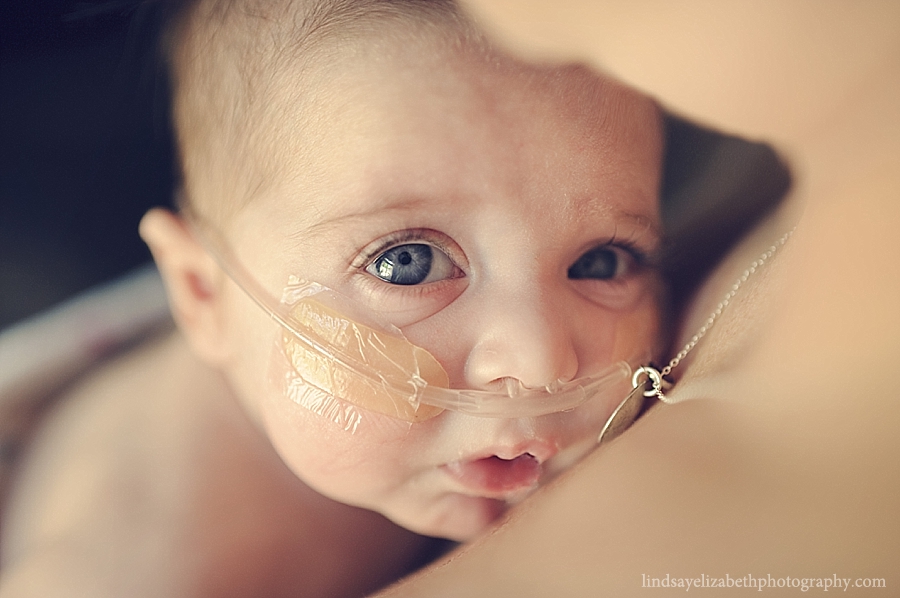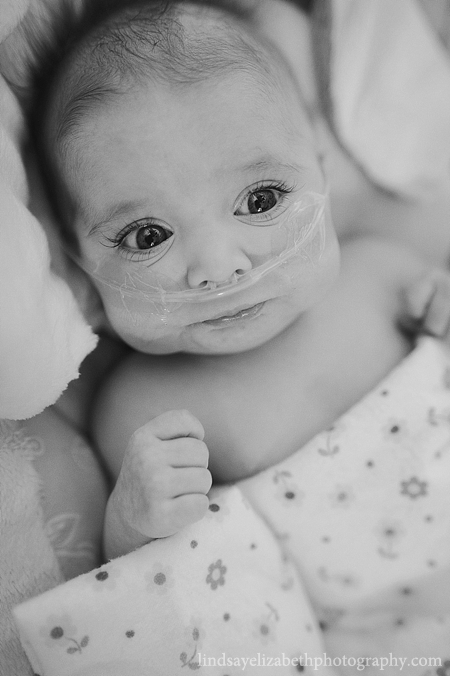 She has the biggest, most beautiful eyes ever!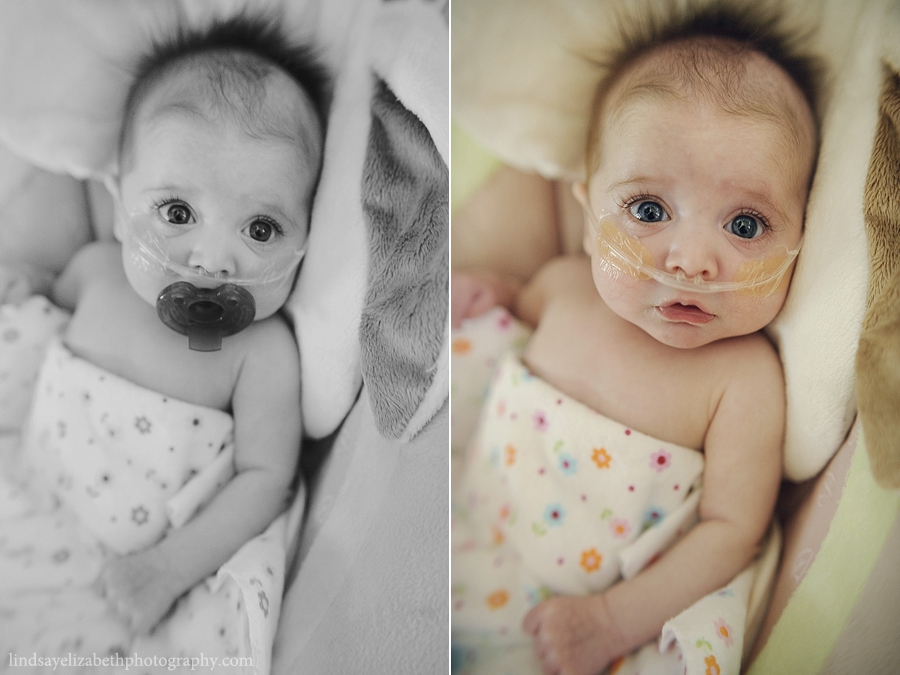 Oh and her eyelashes?! Crazy long!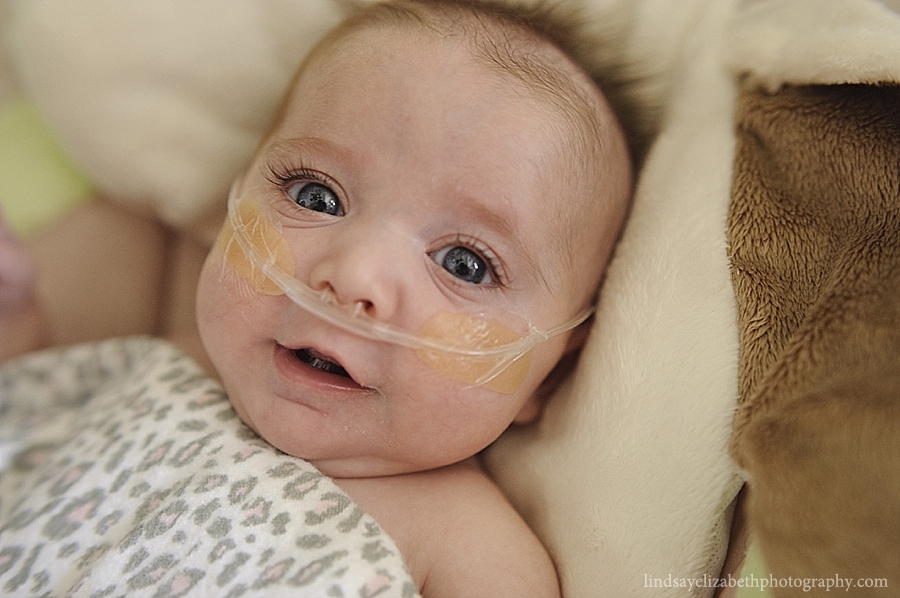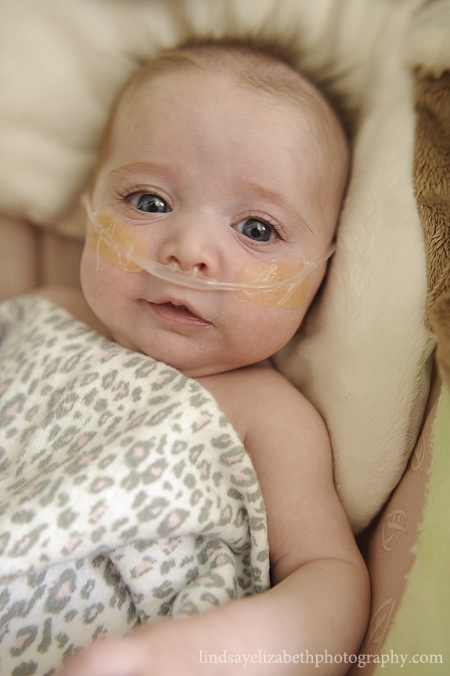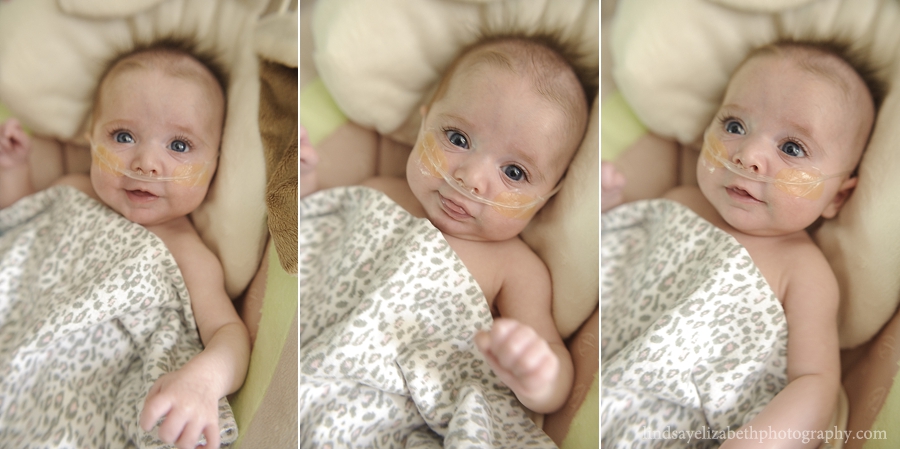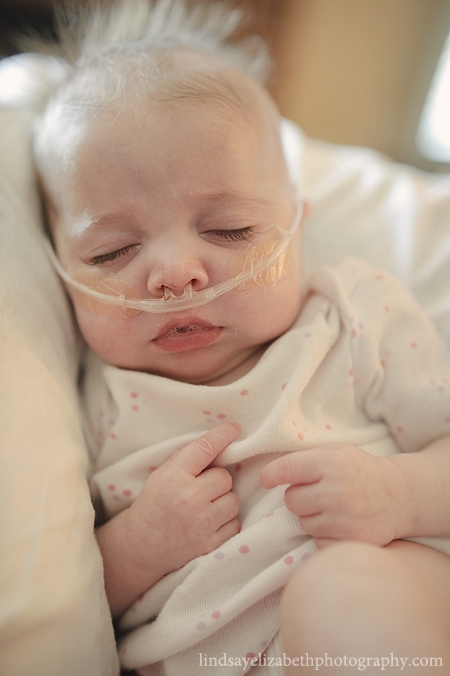 Serisouly, longest eyelashes ever.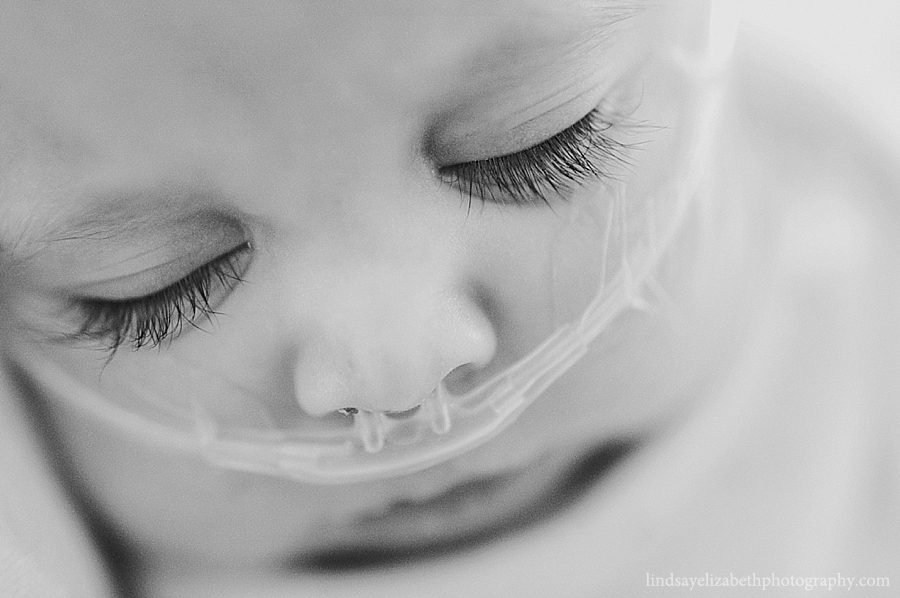 Her "sister" was trying to help calm her down. Not sure how well that worked….